Live Cricket Aus A Vs Ind Assignment
With the curtains finally drawing on what has been a long and successful home season for the Indian cricket team, in which they laid to waste whichever opposition chose to set foot in their backyard, it is time to look at some of the tougher battles that lie ahead.
India travel to South Africa in what will be the first of their three major overseas assignments next year, where they would engage in three Tests, as many T20Is and six one-dayers. For India captain Virat Kohli, who took a break during the limited-overs leg of Sri Lanka's recently-concluded tour, this will perhaps be the first big challenge outside the comfort of subcontinental tracks as the full-time leader of the team.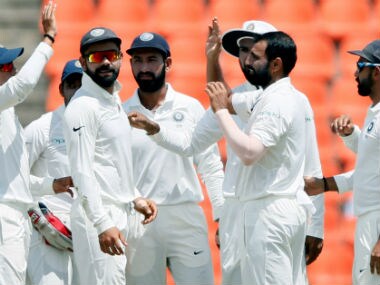 This will be India's first major overseas assignment since the marathon 2014-15 tour of Australia. Reuters
The Test squad announced for the tour had one major surprise — that of Jasprit Bumrah being called up as the fifth seamer in the touring party alongside Mohammed Shami, Bhuvneshwar Kumar, Umesh Yadav and all-rounder Hardik Pandya. Bumrah has been one of the most consistent figures in limited overs for the 'Men in Blue', and a call-up in the longest format was long overdue.
India also announced their ODI squad, which once again confirmed Ravichandran Ashwin and Ravindra Jadeja's exclusion from the shorter formats. Shardul Thakur earned a second call-up, while Kedar Jadhav was brought back into the squad. Among the notable exclusions was KL Rahul, who did not figure in the MSK Prasad-led selection panel's scheme of things.
The Proteas, who recently blanked Bangladesh across formats at home, will be raring to tame the No 1 Test side in the world. What will boost their spirits ahead of the gruelling series starting on 5 January will be the likely return of stars AB de Villiers and Dale Steyn in whites; the latter not having played international cricket for more than a year now.
Here's a detailed look at India's itinerary in the southern African nation:
Full schedule and time:
1st Test: 5-9 January, Cape Town, 2 pm IST.
2nd Test: 13-17 January, Centurion, 1.30 pm IST.
3rd Test: 24-28 January, Johannesburg, 1.30 pm IST.
1st ODI: 1 February, Durban, 4.30 pm IST.
2nd ODI: 4 February, Centurion, 1.30 pm IST
3rd ODI: 7 February, Cape Town, 4.30 pm IST
4th ODI: 10 February, Johannesburg, 4.30 pm IST
5th ODI: 13 February, Port Elizabeth, 4.30 pm IST
6th ODI: 16 February, Centurion, 4.30 pm IST
1st T20I: 18 February, Johannesburg, 6 pm IST.
2nd T20I: 21 February, Centurion, 9.30 pm IST.
3rd T20I: 24 February, Cape Town, 9.30 pm IST.
Where to watch: The destination is Sony Pictures Sports Network and channels are Sony TEN 1 And TEN 1 HD for English & Sony TEN 3 & TEN 3 HD for Hindi. One can also watch the matches online on Sony Liv.
Published Date: | Updated Date:
INDIA TOUR OF SOUTH AFRICA, 2018
Live Cricket Score of South Africa vs India, 3rd ODI
Cricbuzz Staff •
Live Score Updates
South Africa 179/10 (40 Ovs)
Rabada 12 (7)
India 303/6
Duminy 10-0-60-2
Live ScoresFull Scorecard
India gained an unassailable 3-0 lead by defeating South Africa by 124 runs. © BCCI
India have the unassailable 3-0 lead now
Kohli won't mind sharing the limelight with his two favourite teammates - the wristspinners. Chahal and Kuldeep ended at par with four wickets apiece. Kuldeep sends out the googly and Ngidi had no clue about it, missed the line and was trapped plumb in front. South Africa fall short and how, bowled out for 179 and with 10 overs to go.
WICKET - Nine down!
Tahir had just hit a four down the ground but that was all part of the trap. Another carrot in the form of a juicy floater and Tahir fell for it again. Miscued slog went high up and Kohli had another simple catch for the taking.
WICKET - Eight down!
Gently tossed up outside off as Phehlukwayo tries to go for the big heave across the line - rather hopelessly, top edge sails up and Kohli takes a simple running catch at cover. Formalities remain...
WICKET - Seven down!
South Africa are quickly hurtling towards another defeat! Chris Morris was trapped leg before by a Kuldeep Yadav ball that kept a tad low, while Khaya Zondo went for the jugular against Chahal and skied one to substitute fielder Manish Pandey. SA 150 for 7 in 36.1 overs
WICKET - Game Over for SA?
That's certainly what India would believe. David Miller - the last possible batsman who could've led a late dramatic surge to an improbable victory - has perished. Miller advanced down the track as the mid off and mid off were inside the 30-yard-circle, but Bumrah's angle from around the stumps cramped the left-hander for room. The result was an under-edge that went to Dhoni behind the stumps. South Africa 129 for 5 in 32.3 overs
South Africa - 122/4 in 30 overs
The chase is going nowhere presently. David Miller is into the 20s but Khaya Zondo has been slow to provide any sort of impetus. They now need 182 off the last 120 balls!
WICKET - SA 95/4
JP Duminy is gone! He was quick to go onto the back foot to a Chahal ball that wasn't short enough. It pitched outside off and turned in sharply, beating Duminy's attempt to glance it away on the leg side. The ball hit the front pad and the big appeal was met with a raised finger. Duminy wasn't convinced but reviewed, and was still sent on his way back.
FIFTY for Duminy
JP Duminy takes SA's fight forward. He's got his 25th half-century but his job is not even half done. SA will need him to negate the relentless pressure put on the hosts by the two tweakers.
WICKET - Chahal strikes
Not a very happy debut for Heinrich Klaasen. He played inside the line of a Chahal delivery that pitched on leg stump and turned sharply to beat the bat and hit the back leg in line. JP Duminy adviced him against a review and out went Klaasen. SA 88 for 3 in 19.3 overs
WICKET - Aiden Markram is stumped!
MS Dhoni is quick as lightening, as always! SA skipper is beaten by the flight and turn and is way down the track when the ball is collected by the Indian stumper. Markram was looking good but the run rate wasn't moving as quickly as SA would've liked. And the fact that SA have been giving away wickets to spinners in the series, there was a tendency to try and attack one. Markram took one for the team, but failed to see them through it. He goes for 32 off 42. South Africa 79 for 2 in 16.2 overs.
South Africa 48/1 in 10 overs
The second-wicket stand goes on. But the real test comes now, when Virat Kohli unfurls both his spinners.
South Africa 28/1 in 5 overs
SA lost their best player of spin in the second over, but Aiden Markram and JP Duminy have looked positive so far. They're both timing the ball well and will hope to replicate India's success with a second-wicket partnership today.
WICKET - Hashim Amla out for 1!
A pacy length ball that snaked into Hashim Amla has consumed the opener. He moved across enough but couldn't get his bat down in the line of the ball, and was struck on the pads in line. The umpire raised his finger almost immediately and there was no call for DRS. South Africa 1/1 in 1.1 overs
And he finishes off in style.. Kohli got under the penultimate ball so well that it just disappeared off the willow for a six. And he knew exactly where the final ball was going to land, stayed deep and bunted it down the ground for a four. India breached the 300-run mark, quite comfortably too as the India skipper finished with an unbeaten 160. 304 might prove a little too much for the hosts but we shall be here to find out how they fare..
Kohli unperturbed by twin blows
Although India lost both Dhoni and Kedar in the space of seven balls, Kohli has been largely unperturbed by all of it. Has wowed everyone with marvellous shots every now and then. Also, he now has the highest ODI score in South Africa by an Indian captain, beating Sourav Ganguly's 107.
And if the insane running between the wickets and boundaries at regular intervals not enough, he swipes one across the line to fetch a six. Miller went sliding at widish long on and took a fine catch, but he continued to slide over the boundary skirtings.
Kedar falls to a lame shot
Phehlukwayo will find it difficult to believe his luck. Nothing delivery that! Innocuous outside off till Kedar Jadhav decides to poke his bat at it and edges it to the 'keeper. He's out for 1 and India are six down now.
Dhoni departs after scratchy 10
This was long time coming. He had been struggling out in the middle and with the back ten around, he had to push his luck but alas, he could push it only as far as long on who took a simple catch off a miscued heave. Dhoni gone for a 22-ball 10.
India - 222/4 in 40 overs
Virat Kohli has another hundred - his 34th in ODIs! Excellent innings from the captain, who started a bit slowly when Kagiso Rabada was in the midst of a fine first spell, but settled in shortly after and never looked disturbed. He watched a few wickets tumble at the other end through the middle, but that didn't make a difference to his game.
India - 194/4 in 35 overs
Kohli is leading the way right now. South Africa have laid out roadblocks for India with wickets, but the Indian captain is still there and looking set for another century. How much more can India make from here?
WICKET - Hardik Pandya departs
The Indian batsman was only just telling his captain about the ball stopping on the wicket. Here he went for a greedy waft against a length ball outside the off-stump off Chris Morris. A faint nick went to debutant Klaasen who completed a simple take. India 188/4 in 32.5 overs.
India 170/3 in 30 overs
India looked set to continue their batting dominance, only for JP Duminy to remove Dhawan and Rahane in quick succession. But, with Kohli still in the middle, they should back themselves to double their total from here.
Wicket - Rahane is gone!
Poor from the latest No.4. He gave Duminy the charge but the leading-edge didn't go beyond Phehlukwayo at mid-off. India 160 for 3 in 27.4 overs.
Wicket - Shikhar Dhawan is gone!
And Sunil Gavaskar is not happy for Dhawan missing a century. The left-hander played against the turn and ended up flicking towards the mid-wicket region. Markram dived to his left to complete an excellent take. JP Duminy has a wicket, India 140 for 2 in 23.1 overs.
FIFTY for Virat Kohli
The India captain has played second fiddle to Dhawan since the start, but is slowly growing into the game. And with passing time, SA can see the game slipping away. Kohli now has his 46th half-century!
India - 118/1 in 20 overs
The run rate is almost at 6 an over now. This has just been India's ODI template. Start comfortably and then keep pushing the envelope, little by little. Today, they've also benefitted from ordinary bowling from SA's debutant Lungi Ngidi and fourth bowling option Phehlukwayo. The hosts have been put in a fix further by Imran Tahir's leaky beginning. Need a quick fix to turn it all around.
In other news...
Less than 1000 kms away, in Kimberley, Jhulan Goswami has become the first women cricketer ever to pick 200 ODI wickets - here's her story.
FIFTY for Shikhar Dhawan
The left-hander has enjoyed contrasting form compared to his opening partner. He brings up his 25th half-century with a sweep shot for four behind square off Imran Tahir. He gets to his milestone off 42 balls - during which he whacked nine fours.
India 79/1 in 15 overs
India's innings is slowly building with Kohli and Dhawan. That's been India's ODI template and it seems to be working. Problem for Markram is that his fourth bowler - Andile Phehlukwayo - has not started very well. He replaced wrist spinner Tabraiz Shamsi in the line-up.
Rabada bowled an excellent first spell, but he's already bowled five. Markram needs the rest of his bowlers to step and fill in. The skipper should turn to Imran Tahir anytime now.
India 50/1 in 10 overs
Interesting start to the third ODI. Kagiso Rabada has been excellent with varying his lengths. He removed Rohit Sharma first ball and nearly had Virat Kohli too, only for the snicko to come to Indian captain's rescue. Even after that missed chance, Rabada has challenged Kohli well - the No.3 batter has managed to score just nine off the 20 balls he faced from Rabada.
Debutant Lungisani Ngidi has not been as good with his length and line, allowing Shikhar Dhawan to collect four our of his five boundaries so far.
South Africa have already conceded 10 boundaries - allowing India to collect 40 of their 50 runs in fours.
Saved by a spike!
And a big one, that. Kagiso Rabada was convinced he had Kohli trapped leg before. The entire South African side was convinced. Even umpire Ian Gould was. And for a moment it felt like Kohli might just not go to review route, but took it in the end. As it turned out, a massive spike showed up on Snicko as the ball passed the bat. The decision is overturned but Gould has a wry smile and a head shake as he gestures for the change in decision.
Wicket!
Rohit Sharma is gone! Kagiso Rabada has induced the faintest of nicks from the bat of an undecided Rohit, who didn't take his bat away on time while offering judgement to a length ball that came in sharply. No review from the India opener. The visitors are 0 for 1 in 1 over.
TOSS - Aiden Markram opts to put India in
Squads
IND XI : Rohit Sharma, Shikhar Dhawan, Virat Kohli(c), Ajinkya Rahane, MS Dhoni(w), Kedar Jadhav, Hardik Pandya, Bhuvneshwar Kumar, Kuldeep Yadav, Yuzvendra Chahal, Jasprit Bumrah

SA XI : Hashim Amla, Aiden Markram(c), Heinrich Klaasen(w), Jean-Paul Duminy, David Miller, Khaya Zondo, Chris Morris, Andile Phehlukwayo, Kagiso Rabada, Lungisani Ngidi, Imran Tahir
News from Cape Town
Our man Kaushik Rangarajan brings some good, intriguing and exciting news - First - "Very bright and very sunny. The usual people at the warm-up drills for India."
And - "If you didn't think it was possible, Kedar Jadhav released a ball from a lower angle than usual."
Lastly - "Lungi Ngidi having quite a serious fielding drill. Could be in for his ODI debut."
Prelude - Testing times for South Africa
Who'd have thought, we'd say this? But it is indeed testing times for South Africa as the No. 1 ODI side has looked completely out of depth, and have big changes to make, and a tide to turn at the halfway mark of the six-game long series.
All the expectant eyes have turned towards the prodigious 23-year-old Aiden Markram, who is leading the side in the absence of regular captain Faf du Plessis and stand-in captain AB de Villiers - both sidelined by injuries. Quinton de Kock isn't around too, giving another youngster - Heinrich Klaasen - the task of keeping stumps.
This 1v2 contest hasn't played out like many would've liked - but there could still be life left in the series if South Africa can turn the tables on a side that is lacking in no department at the moment. Good luck then, Aiden.
© Cricbuzz
RELATED STORIES